If you are a fan of college football or the State of Michigan then you probably tuned in to one of the state's great fall traditions: Michigan vs. Michigan State football. Except, if you expected to see Michigan in traditional white road jerseys with maize trim then you (and I) may have been disappointed. However, MSU outdid UM when they ran out in their new, specially designed Nike Pro Combat uniforms.
The special uniforms are part of Nike's line that spans many campuses. As in East Lansing, the line has had mixed reviews. Without a doubt, some of those reviews were of the, "is that Oregon?" variety. Fans wouldn't be blamed for also conjuring comparisons of Notre Dame's mythical green jerseys.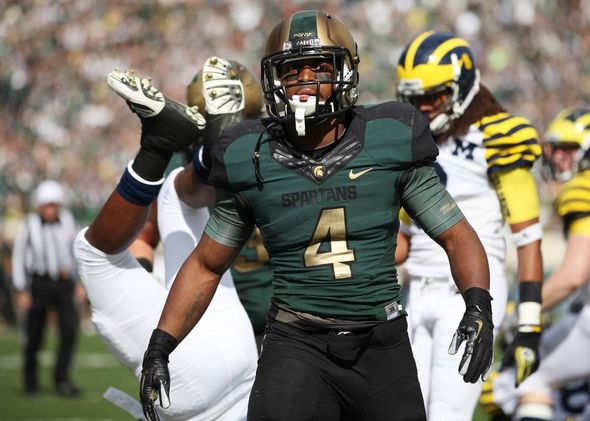 While there probably wasn't any confusion on the field (well, there was that interception), or TV, it raises the issue of collegiate identities and how they are protected. With money raining on college athletics, buoyed by lavish TV deals, it is no secret that the schools' identities are their sword and shield (MSU pun intended). Brand identity is what distinguishes "State," as in Michigan State, from Mississippi State, Penn State, Oklahoma State, North Carolina State, Florida State, etc. To get more abstract, brand identity is what distinguishes MSU's block "S" from those of Syracuse, Stetson, Stanford, Penn State, North Carolina State, etc. It is the trademark that protects the value of each school's identity.

The purpose of trademarks is to identify something with its source. Its how you know that yellow golden arches is McDonald's or how a rigid bowtie is Chevrolet. Marks that confuse the public as to what came from hurt brand identity and good will. Therefore, the law gives us eight factors known as the Likelihood of Confusion Test to keep everything straight.
1. Strength of the senior mark;

2. Similarity of the marks;

3. Relatedness of the goods or services;

4. Evidence of actual confusion;

5. Marketing channels used;

6. Likely degree of purchaser care;

7. The intent of selecting the mark;

8. The likelihood of expansion of the product lines.
AutoZone, Inc. v. Tandy Corp., 373 F.3d 786, 792 (6th Cir 2004). Michigan State and Syracuse actually did have this problem in 2004, when Syracuse was in the process of rebranding its athletics program with a uniform identity. Syracuse was on a mission to create a uniform, nationally recognized brand.
The supposed solution was a Nike-designed interlocking "SU." Of course, Syracuse wasn't the only school using "SU." Seattle University also identified itself as "SU." This is where the Confusion factors come in. Syracuse, without a doubt, is a national university. It competes in Division 1 athletics where it is particularly known for its basketball, lacrosse, rowing, and football programs. It is also recognized for its elite journalism school. Seattle University, on the other hand, is arguably a regional school. The two schools are not likely to compete on the field or in the classroom. Quickly running through the Confusion factors shows why. In the end, Syracuse and Seattle mutually agreed to allow the two "SU" marks to coexist.
Syracuse's fanbase, however, was unhappy with the mark. The block "S" was hands down more popular. The big problem is that, as already stated, many national programs use a similar mark. Notably, MSU owns the block "S" trademark in many colors. Applying parts of the Confusion Test in the case of MSU and SU is much more interesting. MSU's block "S" is nearly synonymous with the school in the Midwest and recognized nationally. Besides color, the marks are nearly identical. Both are universities with Division 1 athletics programs that compete academically and athletically. Both schools are frequently featured on TV for games and, of course, recruit and advertise online. Because of this genuine problem, MSU did not allow Syracuse to use tread so closely to its mark. Ultimately, Syracuse chose to place "Syracuse" arched in block letters over the "S." Problem solved, game on.
So do I expect any problems between MSU and Oregon or Notre Dame? No, of course not. Even for competing, nationally recognized and televised Division 1 programs, the distinctions between the schools are too widely known for one-off jerseys (or in Oregon's case, serial one-off jerseys) to cause genuine confusion. The (traditional) color schemes, letters, symbols, etc. are totally different. Furthermore, the fanbases are, well, rabid. They are not going to confuse an entire uniform scheme with its complexities and elements in the same way a simple block "S" could so. But, as noted, the issue raises genuine concerns that the law recognizes.
MSU is still working with the problem of being represented by a block "S." This is why the school, in conjunction with Nike, released new "Michigan State" and "Spartans" marks that appear to be notched. The new font pervades names and numbers throughout the program. Every change is meant to create a unique, uniform identity that will satisfy the Likelihood of Confusion Test and, ultimately, wallet-toting fans.
But really, MSU, everyone would have been just as excited to see you in green and white helmets. There, now you can put the bronze away.